Why More Americans Will Now Be Screened for Lung Cancer
More women and Black people are eligible for lung cancer screenings under the new guidelines. FG Trade/Getty Images
New federal guidelines expand the number of people recommended for lung cancer screenings.Experts say the guidelines do…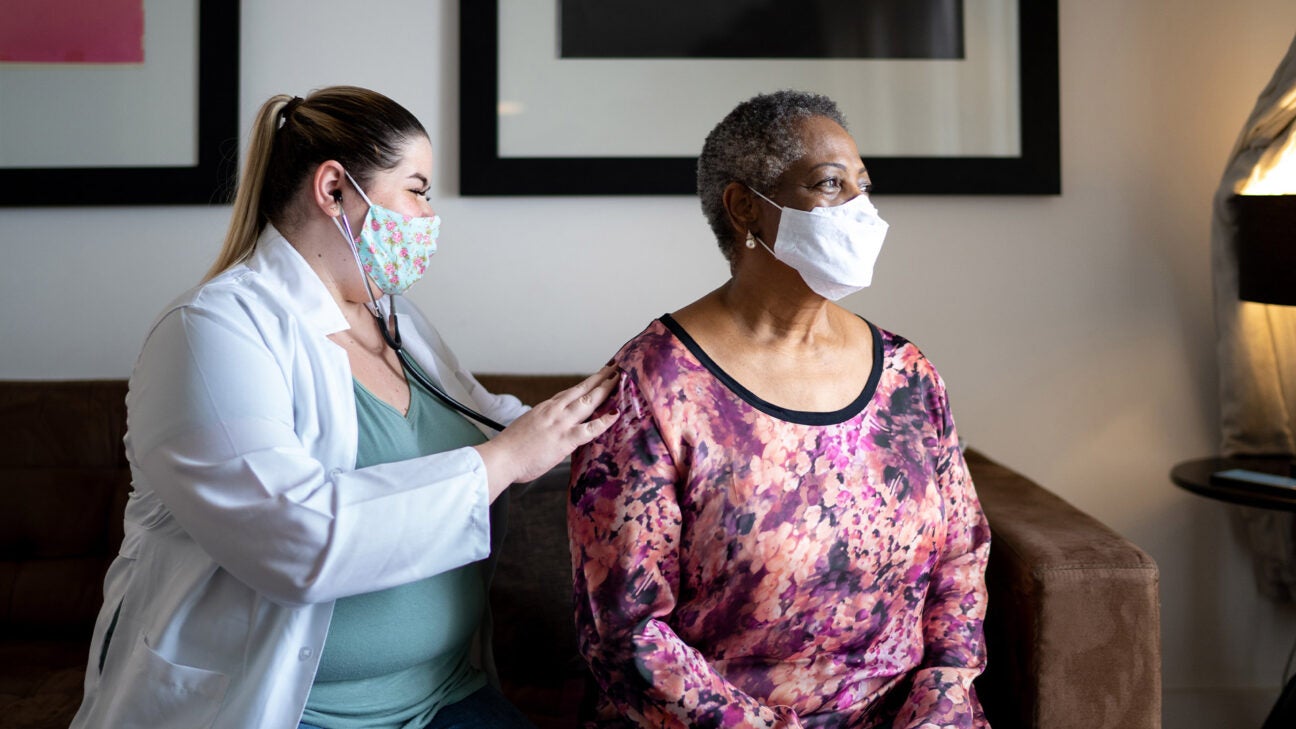 New federal guidelines expand the number of people recommended for lung cancer screenings.
Experts say the guidelines double the number of people eligible for the screenings, in particular Black people and women.
They say the guidelines are important because lung cancer usually isn't diagnosed until the later stages.
Lung cancer is the leading cause of cancer deaths in the United States.
But most of the time, there are no symptoms until the disease reaches an advanced stage, when the prognosis is poor.
New recommendations from the U.S. Preventive Services Task Force (USPSTF) call for increased lung cancer screening for smokers.
The updated recommendations bring in younger smokers and those who have smoked less.
It will almost double the number of people eligible for screening.
Screening is significantly expanded for Black people and women, who tend to smoke fewer cigarettes than white men, according to a Task Force statement.
What's new
The USPSTF recommends annual screening for lung cancer with low-dose computed tomography (LDCT) in adults aged 50 to 80 who have a 20 pack-year smoking history and currently smoke or have quit within the past 15 years.
This lowers the age by 5 years and the pack-year smoking history by 10 years.
A pack-year is equal to smoking an average of 20 cigarettes, or 1 pack, every day for a year. Smoking is linked to 80 to 90 percent of lung cancer deaths, making it the biggest risk factor.
Keeping with the prior recommendations, the USPSTF recommends that screening end when a person:
hasn't smoked for 15 years
develops a health problem that substantially limits life expectancy
is unable or unwilling to have curative lung surgery
The evidence
The USPSTF reviewed previously published studies and trials on the accuracy of screening tests, the benefits of early detection and treatment, and potential harms.
They concluded with "moderate certainty" that annual screening with LDCT for lung cancer has a moderate net benefit in people at high risk of lung cancer based on age, smoking history, and years since quitting smoking.
Dr. John Maurice is a surgeon and program director for the thoracic oncology program at the Center for Cancer Prevention and Treatment at Providence St. Joseph Hospital in Orange County, California.
Maurice told Healthline that the 2013 National Lung Screening Trial (NLST) showed that lung cancer could be diagnosed quickly and easily with LDCT.
"It's a noninvasive test that can reduce lung cancer mortality by about 20 percent. So, Medicare started paying for it. In subsequent years, the NELSON Trial showed an even larger benefit in survival for high risk patients," said Maurice.
Dr. David Carbone is an oncologist and the director of James Thoracic Center at The Ohio State University Comprehensive Cancer Center.
"The original criteria resulted in finding cancers earlier rather than after it has metastasized," Carbone told Healthline.
"With lung cancer, even a 5-inch mass in the lung often causes no symptoms. The fact is that most of the time, lung cancer is diagnosed in an advanced stage, when it's incurable. When you find it at stage 1, it's not 100 percent curable, but much more curable than metastatic disease," he explained.
"It's incontrovertible that lung cancer screening in an appropriate population helps save lives," Carbone added.
Why the recommendation matters
The updated recommendation highlights the importance of lung cancer screening.
"One reason screening hasn't taken off is that guidelines for family practitioners did not make lung cancer screening standard of care," said Carbone.
Maurice echoed that thought.
"A big issue we have to overcome is getting the message to patients and doctors," he said. "That includes family practitioners, oncologists, and pulmonologists, anyone that cares for patients who smoke."
The new USPSTF guidelines also mean that insurers will likely start covering the screenings without copays.
"I wish screening were open to anyone, but prioritizing makes a lot of sense," said Carbone. "With the expanded risk criteria, I hope it gets taken up by payers and CMS [Center for Medicare & Medicaid Services]."
Under the Affordable Care Act, most health policies must cover preventive services, including those with an A or B recommendation from the USPSTF. The new lung cancer screening recommendations have a B rating.
Room for improvement
In an editorial published in JAMA Surgery, doctors from Massachusetts General Hospital welcome the changes but say they don't go far enough.
Among their concerns are:
The guidelines are inadequate for the 15 to 20 percent of patients with lung cancer who have never smoked, especially women.
Patients with additional known risk factors for lung cancer, such as occupational and environmental exposures, family history, and pulmonary fibrosis are not included.
Lung cancer risk remains elevated beyond 15 years of smoking cessation.
Maurice treats mostly patients with lung cancer, about 15 percent of whom don't smoke.
"That's significant. Smoking is not the only risk factor. There are differences in race and sex, socioeconomics, family history, environmental exposures. We haven't yet figured out all the factors involved. As time goes on, hopefully more studies will provide clarification that may broaden the arc even further," he said.
"This is one of the best screening tests in medicine. It's even more significant in terms of lives saved than other screenings like prostate tests, mammography, and colonoscopy. This is a nice development to see, but there's work that still needs to be done. The biggest battle is that we're not reaching 90 percent of patients," added Maurice.
Key takeaways
"We need to educate the population on the benefits of lung cancer screening. These tests couldn't be easier. There's no needle, no injection, nothing to prep like with a colonoscopy. And testing and follow-up procedures we have today are far better than 20 years ago," said Carbone.
As with any cancer test, there's a certain amount of stress involved when you get an abnormal reading.
"There is some psychological stress you might have with lung cancer screening," he said.
"There can be false positives or false negatives. But I like to point out that getting and dying of lung cancer is stressful as well. Finding it early is the best news you could have," Carbone added.